The use of in silico trials is expected to play an increasingly important role in the development and regulatory evaluation of new drugs and medical devices. One of the advantages that in silico approaches offer is the possibility to test drug candidates and new medical devices using virtual patients or computational emulations of preclinical experiments, allowing to refine, reduce or even replace time consuming and costly benchtop/in vitro/ex vivo experiments as well as the involvement of animals and humans in in vivo studies.
Modeling and Simulations (M&S) has become firmly established as a regulatory science priority at FDA during the last decade, coinciding with the enormous expansion of data science and model-based technologies. In silico trials methodologies are also encouraged by the European Medicines Agency and included in the new EU Medical Device Regulation.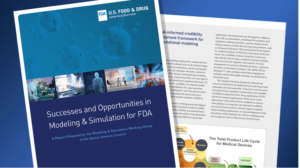 Successes and Opportunities in Modeling & Simulation for FDA is the newly released report prepared by the Modeling & Simulation Working Group of the Senior Science Council, in which the FDA acknowledges that despite overall understanding of the importance of M&S, there is still limited information on how M&S is used across and within FDA Centers and on the impact it has had on FDA's mission to protect public health.
The FDA report describes the role of M&S across the Agency and aims to tackle this untapped knowledge by:
clarifying the types and purposes of M&S used within the FDA, as well as how and where M&S is employed across the Agency
presenting a selection of case studies of how FDA scientists have used M&S methodologies
identifying opportunities for the FDA to utilize M&S more fully and leverage computational advancements to provide better public health solutions.
Among these opportunities, we signal "consider the establishment of Good Simulation Practice to foster harmonization across the FDA, and where appropriate, with international regulatory bodies". As pioneers of the Good Simulation Practice, InSilicoTrials strongly supports this FDA initiative to strengthen the landscape of modeling and simulation practices.
Testifying to our commitment to Good Simulation Practice, our CEO Luca Emili also co-chairs the Good Simulation Practice (GSP) Task Force within Avicenna Alliance, involved in drafting a Good Simulation Practice document widely recognized and accepted.
Good Simulation Practice acquires an ever increasing importance within M&S. In the coming years, scientific research on in silico medicine must become less and less speculative, and increasingly translational, that is to say, immediately applicable and useful for clinical and industrial applications. This will only become possible if researchers in laboratories and universities also start developing their models following good simulation practices.
Furthermore, the lack of "Good Simulation Practice" guidelines may be one of the limiting factors for broader use and acceptance of M&S: establishing best practice and quality control principles will ensure more harmonized standards for model development, model use and validation.
: Find out more: https://www.fda.gov/science-research/about-science-research-fda/modeling-simulation-fda